Alternative Energy: A chance to make a change
Dr. Saule Zholdayakova is Acting Head of Department of Alternative Energy (Hydrogen Energy Competence Center) and the Head of Hydrogen Technologies Research Laboratory at KMG Engineering in Atyrau, Kazakhstan. In addition to her work to transform her nation's energy usage and transition Kazakhstan away from fossil fuels, she is also striving to challenge gender norms and promote the inclusion of women in STEM fields. Dr. Zholdayakova sat down with the STEM4ALL platform to discuss the ongoing challenges around gender stereotypes and women's representation in STEM – especially at upper levels of management and leadership – and to share her inspirations, motivations, and ambitions for the future.
Dr. Zholdayakova, could you share with us a little about your upbringing, and what first got you interested in science?
I am originally from Zhezkazgan, an industrial city in Kazakhstan. Since I was a little girl, we could always see smoke rising from the copper factories that surrounded our city, and growing up it was always my dream to fix the environmental problems caused by the water and air pollution.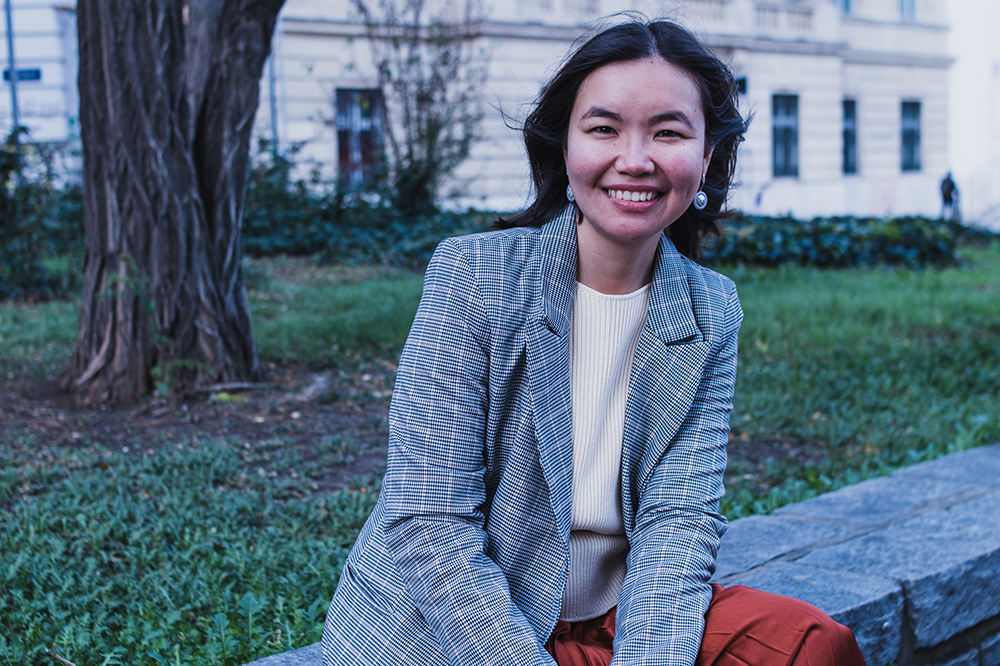 My mother was one of my biggest role models. She was a newspaper editor - to this day I love the smell of fresh newspaper - and she always encouraged my sister and I to read and study. There were always papers, journals, and books around our home, and we grew up in an environment of "study always, and study hard". I think this is one of the main reasons why I chose to become a researcher.
The first scientific research project I ever did was in high school. I wanted to solve an issue facing my hometown about waste management and the separation of home waste and recycling. I visited the organizations responsible for waste management to ask them for data, but they were shocked by my project, and by my gender and my age, and refused to help me. So, I decided I had to conduct some experiments myself! I returned home and began taking measurements of garbage - first in our home, then of neighbors, until I was able to calculate the average levels of waste generated by our entire city every month. I went to the library to learn more about different types of waste management systems, and got support from a teacher at school, who also encouraged me to join debate club, where I developed my argumentation. Through attending different debate activities, I got the chance to meet with a local scientist, who shared his view that environmental problems would be our biggest issue in the coming years. He was right; climate change, air pollution, water pollution - these are our main challenges now.
Environmental challenges seemed to be my calling, in some way. In school, my advisor also taught geography, where we learned about technical and scientific proposals being done in Japan - I found this incredibly interesting and relevant, as Japanese waste management systems had caught my attention during my first waste management project. I wanted to go to Japan to see all these projects in person, so when I graduated high school I went to university in Almaty, where I majored in Oriental Studies and began learning Japanese.
What has your academic and professional journey looked like so far? Can you tell us about some of the challenges you have faced along the way?
Getting to Japan was a huge goal of mine, and so when I got the opportunity to study abroad at Tokai University during my bachelor's studies, I took it! I finished all of my education in Japan, where I studied environmental sciences and eventually focused on the energy sector. I first came into contact with hydrogen in the third year of my bachelors, when we did a set of lab experiments that showed me how, through using hydrogen, we could get clean air and water. Knowing how much my country - and especially my hometown - is still struggling with pollution issues, this started me on my path towards implementing hydrogen in Kazakhstan as a clean alternative energy.
Staying in Japan to continue my studies was not easy; I had to work hard to find scholarships and funding opportunities. My original scholarship was from the Kazakh government, but there was a stipulation that I had to go back to Kazakhstan to work once I finished my undergraduate degree. Since I wanted to stay in Japan to continue my studies through a Masters and a PhD, I had to find alternative options. For my Master's course, I found a scholarship from Rotary Yoneyama Memorial Foundation, by Rotary Club Japan.
To continue my Doctoral Course, I applied for many scholarships. However, I did not qualify for many of them because of the major I selected, or because applicants from my home country were not accepted - there were many requirements like this that disqualified me. I finally found a one- year scholarship from the College Women's Association of Japan, and this was the opportunity I needed. I was able to stay in Japan and continue my studies while looking for future opportunities for scholarships. I think my view that challenges are something to make me stronger helped a great deal in getting through this process. I was able to complete my doctoral course, but I know this isn't the case for everyone - I am a strong believer in needing more scholarships for women in STEM. We have so few specialists; we should be encouraging more women to follow paths in STEM. If women were more supported to advance in these fields, perhaps we would see more women professors, managers, bosses - maybe the atmosphere in university and research labs would be different. I think having more women professors definitely would have helped me feel more understood and supported - in the end it's about having the right support: mental, research and financial.
When I finished my studies in Japan - after 11 years! - I returned to Kazakhstan with a dream of implementing hydrogen as a key energy source in my country. Hydrogen is the most stable element in the world, but we never find pure hydrogen in nature; it is always mixed with something. To use hydrogen as an energy source, you have to separate it to produce pure hydrogen, and then store and transport it safely. My focus has been on the safe and effective transportation of hydrogen in solid materials - rather than liquid or gas materials.
When I came back to Kazakhstan, I was one of the first scientists to focus on hydrogen. My goal was, and still is, to use materials to store and transport hydrogen that are inexpensive and readily available in Kazakhstan. However, realizing my research was very difficult at first; there was very little interest in hydrogen in the scientific community, and people did not understand why I wanted to develop hydrogen based solutions. I had a breakthrough when the government of Kazakhstan made a statement in the news that the country had to consider the possibilities hydrogen had to offer in the energy crisis and climate change solutions.
This was huge for me - this was what I'd been waiting for! I reached out to the person responsible for this government project and introduced myself as a hydrogen specialist. I was invited to give a lecture about hydrogen and my research, and later was invited to become Kazakhstan's National Oil and Gas Company's hydrogen expert. Under this umbrella of the National Energy Company, we established a hydrogen subsidiary for research and engineering - the first hydrogen center in all of Central Asia. We opened the center officially in April 2022, and we will begin conducting experiments with hydrogen at the start of 2023.
What are the challenges around gender equality still facing you and your team at these high levels of operation?
I always have gender equality on my mind. I try to keep a balance on my team; right now, we have four men and three women. When we recruit, of course we look for education and experience, but we always consider gender equality and diverse perspectives. We are working towards a goal of our team being entirely gender equal, and we are also looking to bring young specialists with education experience abroad to the Center. Above all, we want people with experience with hydrogen, and who have passion about implementing hydrogen in Kazakhstan.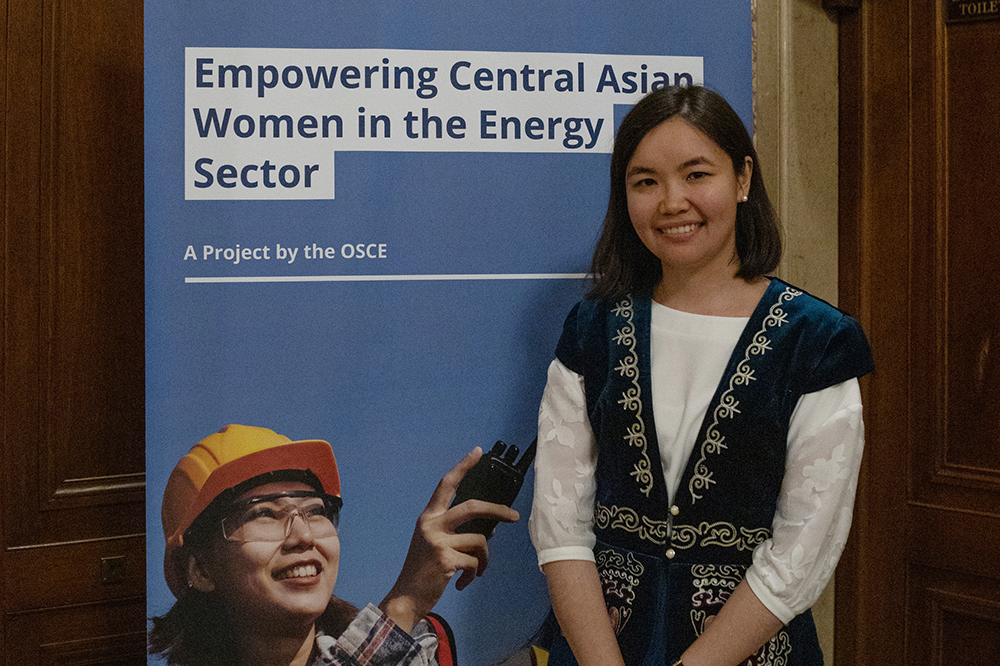 Last year, when we began recruiting for the team at the Hydrogen Center, we had no women candidates for high level positions, only the lower levels. This was a shock to me - I couldn't understand why they wouldn't apply. We have to educate and support them - and the wider community as well. Stereotypes are still a big challenge; people still think that having a man for a boss is a better representative. We have to change the minds of the people, starting with ourselves.
For me personally, a challenge I have faced has been learning to manage people. My team is a very interesting bunch and I enjoy working with them, but I had only ever been a researcher prior to my role here. I've had to learn how to take on a leadership role, and maintain a strong team feeling where we can motivate each other to make change and overcome dependency on oil and gas.
Also, I am one of very few women specialists at high level meetings, and I always feel this pressure when sharing my ideas or presenting projects. Self-confidence is always a struggle for me - I always want just a little more time, energy, research - to show without a doubt that what I am doing is right. There are still gender stereotypes that follow me, even at this high level. I am often asked about my marital status, or if I have children, or how I can go on a business trip - when none of the men are asked such questions. Ideas that women can't make decisions, or that our ideas aren't as important also make it difficult to share my ideas and opinions and be taken seriously and listened to. But I am trying to break these stereotypes!
What do you think should be done to encourage more women to follow paths in STEM?
Recently, I attended an OSCE Global Women's Network for Energy Transition study tour program for women's empowerment in Austria. Following a weeklong study tour in Vienna, I have continued to work with a mentor who is helping me learn how to improve my communication and presentation skills and develop career goals. More programs like this, more mentorship, support within companies, and also funding - these will all help. Government support and community support are both key as well. But first we need to make these changes in ourselves; build our confidence and believe that following these dreams are possible.
The first step is education. My favorite phrase is: "When you educate men, you educate men. When you educate women, you educate generations." Increasing the number of scholarships available for women studying STEM would be a huge move forward.
Do you have any advice for young girls with dreams of following careers in STEM, or in particular in green energy?
According to the International Energy Agency, women make up around 14% of the managing roles in the energy sector, and this drops to just 10% in renewable energy. Alternative energy is a new direction. We have a chance to make a change. We can make gender equality a key component of renewable energy - women have this amazing opportunity to realize their dreams in the energy sector.
My advice to young girls would be, don't be afraid of stereotypes. If you like what you do, just believe in yourself and don't worry about anyone else. Everything is possible - don't limit yourself or your opportunities.
Year by year, it's so exciting to know that more and more women are following their dreams and breaking down stereotypes - and I am trying to be one of them!
For more about Dr. Zholdayakova's work on advancing the use of hydrogen as a green alternative energy source, you can read one of her scientific papers, here, or take a look at the Competence Center for Hydrogen Energy, where she leads!