Water needs more passionate people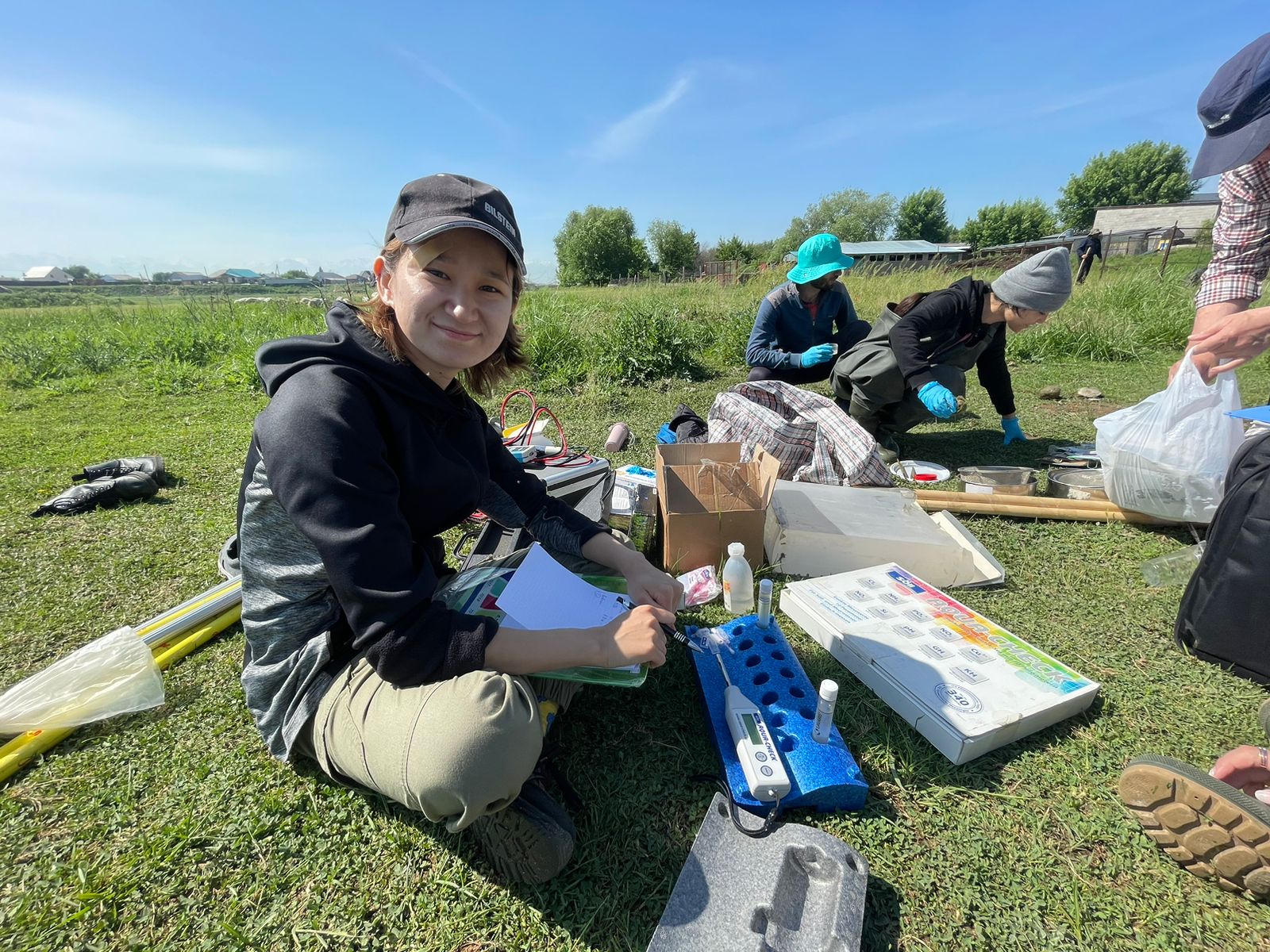 The impacts of climate change are being seen with greater urgency all over the world, and Central Asia is no exception. In Kyrgyzstan, water resource management is a key issue, as a reduction in glaciers is calling the country's supply of fresh water into question, affecting the region's socio-economic development, energy and food production, and ecosystem health, according to a recent UNDP press release from the 2023 UN Water Conference. As communities work to develop solutions to droughts, floods, and frosts, and changes in water supplies across borders, among other water-related climate change impacts, leaders and role models are also emerging to lead the way in raising awareness about climate issues and engaging people across Central Asia in learning – and doing – more to address these issues.
In this interview, we had the pleasure of speaking with one such emerging leader: Meerim Seidakmatova, an inspiring eco-activist and water management specialist from Kyrgyzstan. Meerim shared with STEM4ALL her journey, from discovering her passion for ecology and water management to her involvement in various networks and organizations to engage and empower her peers as well as develop her professional expertise.
Q: Can you share a little about your upbringing?
Meerim: I grew up in Kyrgyzstan, a small mountainous country in Central Asia. During my high school years, I became fascinated with environmental issues while taking German language classes, and reading articles in German about environmental programs. This sparked a deep interest in climate change and global warming for me. I felt the need to contribute and make a positive impact. I pursued a bachelor's degree in ecology and natural resource management at Kyrgyz National Agrarian University, where I founded the university's first-ever ecology club, and became more engaged in eco-activism and in conferences and forums focused on environmental awareness.
I'm also one of the first children in my family who has had the opportunity to study. I'm the only one with a Bachelor's and Master's. My family is so proud of me, and so supportive. My mother never forced me to do housework growing up; she insisted that I focus on studying instead. My father was also supportive, but it was my mom who was the driving force - she's the first to brag that her daughter has gone to study abroad, even though I am not that far away! My family's confidence and support has been a huge source of inspiration for me.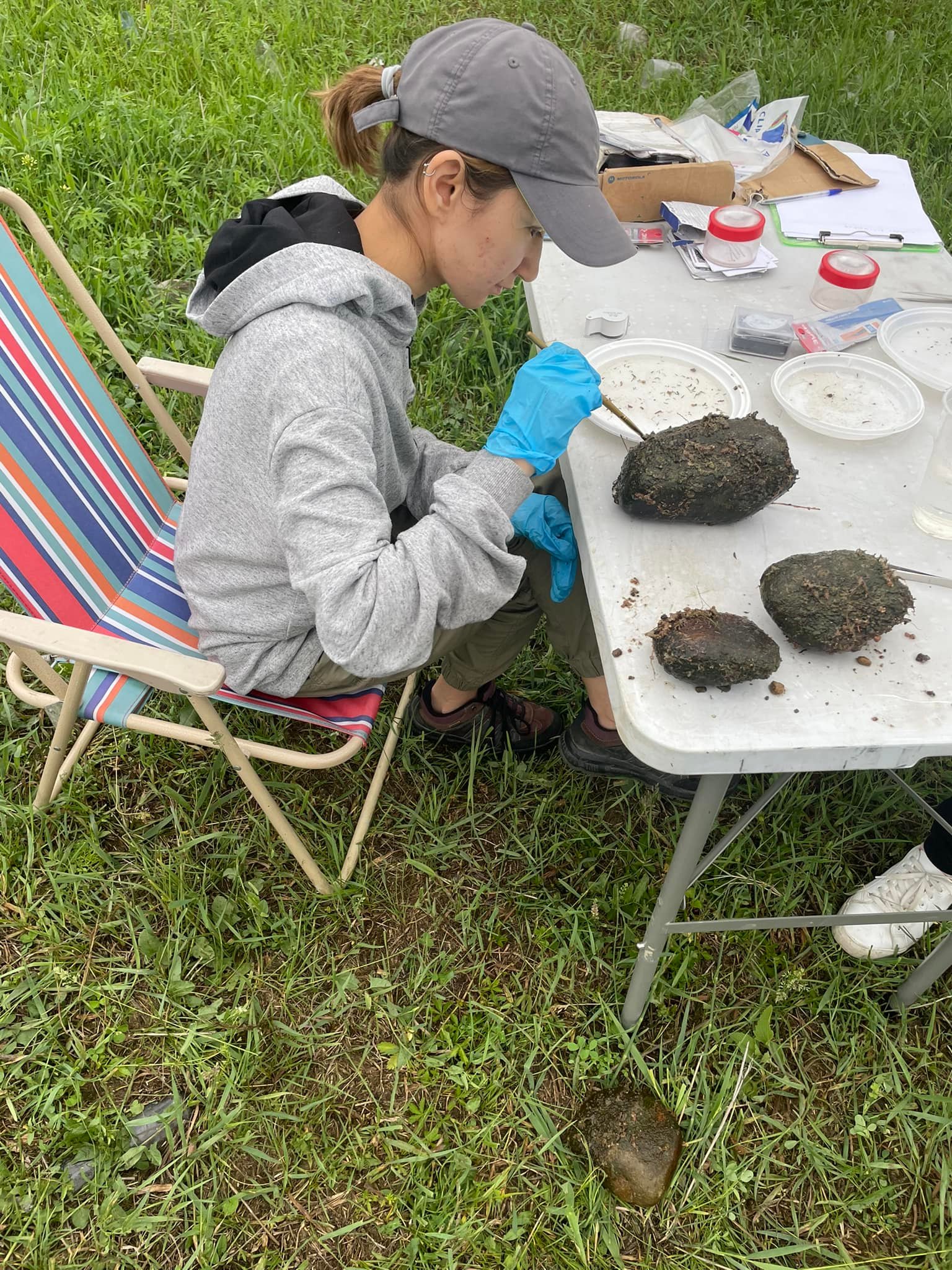 Q: How did you decide to focus on ecology and environmental issues, and how did you get started as an eco-activist?
Meerim: In my region, ecology and environmental issues are not widely known, even though we have incredible and unique virgin nature. However, the articles I read in German class inspired me. I was about 15 years old at the time, and felt the need to enact change - I believed I could be a superhero and save the planet! At that age, it felt like I was so big, and the world was so small; I thought I could do anything!
I decided to apply to university, and selected schools that had environmental and ecology programs; there were only four or five options in the whole of Kyrgyzstan. I knew I wanted to study something technical or scientific, and ended up attending Kyrgyz National Agrarian University, where I learned about general ecology, geology, hydrology, the atmosphere, biosphere, and many other elements of environmental sciences. During my studies, I realized the magnitude of environmental problems facing the world, and I also saw just how little people knew about what we are facing. Even other students and faculties at my university were not aware of these problems, and so I decided that my first step would be to raise awareness among my peers.
I opened my university's first ever ecology club, through which I planned to do trainings and guest lectures about environmental issues. To my surprise, the first meeting was a huge success! We had around 80 students attend - even from other universities! It seemed that people actually were looking for a way to learn more about the environment, and wanted a stronger sense of community and access to information. From there, I went on to become one of the organizers of the first ever Youth Climate Forum in Kyrgyzstan in 2019, an event held by youth for youth.
In 2021, I became the National Coordinator of the Central Asia Youth for Water Network. I focused on mobilizing the youth in my country and engaging them in projects like national contests on the Sustainable Development Goals, and youth-based dialogues on crossborder river basins, such as the Chu-Talas River Basin that run along the Kyrgyz-Kazakh border. Alongside this, I also had an internship with the Kyrgyz Hydro-Meteorological Agency, under the Ministry of Emergency Situations of Kyrgyz Republic, where I worked in the Environmental Monitoring Department. I had a wonderful experience helping to analyze levels of air pollution, and learned that I love working in a lab and getting to travel to the field to collect samples.
As I have continued to engage in communities, networks, and organizations, I've met many amazing experts, who have helped me to shape my journey and career path - especially when it comes to focusing on water management. These experts have become my role models, especially the women professionals I have gotten to know. Their support and expertise has really helped shape my path in the water sector.
Q: How did your journey take you from Kyrgyzstan to Kazakhstan, where you are currently pursuing a Master's degree in Integrated Water Resources Management?
Meerim: Once I finished my bachelors, I decided to continue my studies at the Kazakh-German University in Almaty, Kazakhstan, where I had great opportunities to work with youth on water resources and continue with various networks and environmental communities.
I was fortunate to receive a nomination to join the Regional Environmental Center for Central Asia (CAREC) for a project focused on women in the water sector. This opportunity allowed me to actively engage in the network as a brand new student of water, and connected me to an amazing mentorship program of women experts that complemented my studies over the course of one year, all held online.
Upon completing the program, the organization launched the Women in Water Management in Central Asia Network, aimed at empowering and supporting women experts, specialists and young professionals like me. This network serves as a community of practice for women water experts, focusing on transboundary water practices in Central Asia and Afghanistan. Supported by organizations such as OSCE, SIWI, and the The Regional Environmental Centre for Central Asia (CAREC), this initiative provided me with invaluable additional knowledge to supplement my studies. Having access to such inspiring role models in a field where women are often underrepresented was truly a stroke of luck. Seeing women in the water sector is so rare; having this concentration of support and professional mentorship has been amazing. I never once felt that the water sector was not meant for me; instead, I experienced immense support and incredible opportunities throughout this journey.
Q: Can you explain what the Master's degree program in Integrated Water Resources Management entails, and what are your future plans after completing the program?
Meerim: The Master's degree program in Integrated Water Resources Management is a multidisciplinary approach that combines various fields such as hydrology, water governance, and environmental science to address water-related challenges comprehensively. After completing the program, I aim to work in the water sector, focusing on sustainable water resource management, climate change adaptation, and community engagement. I want to apply the knowledge and skills I've gained to contribute to water-related projects and initiatives in Central Asia.
Q: What challenges did you face in entering a scientific sector, and do you see a gender disparity in your field?
Meerim: Recently, I visited the Institute for Water Problems in my country, in search of job opportunities as I am close to finishing my Master's degree. To my surprise, as I entered, I saw that all the displayed photographs were of old men. I could not believe that for two centuries, the water sector in my country has only been worked on and represented by old men. Having come now from such a diverse network of women in this field, this clear gender disparity and lack of diversity within the water industry in my own country came as a shock.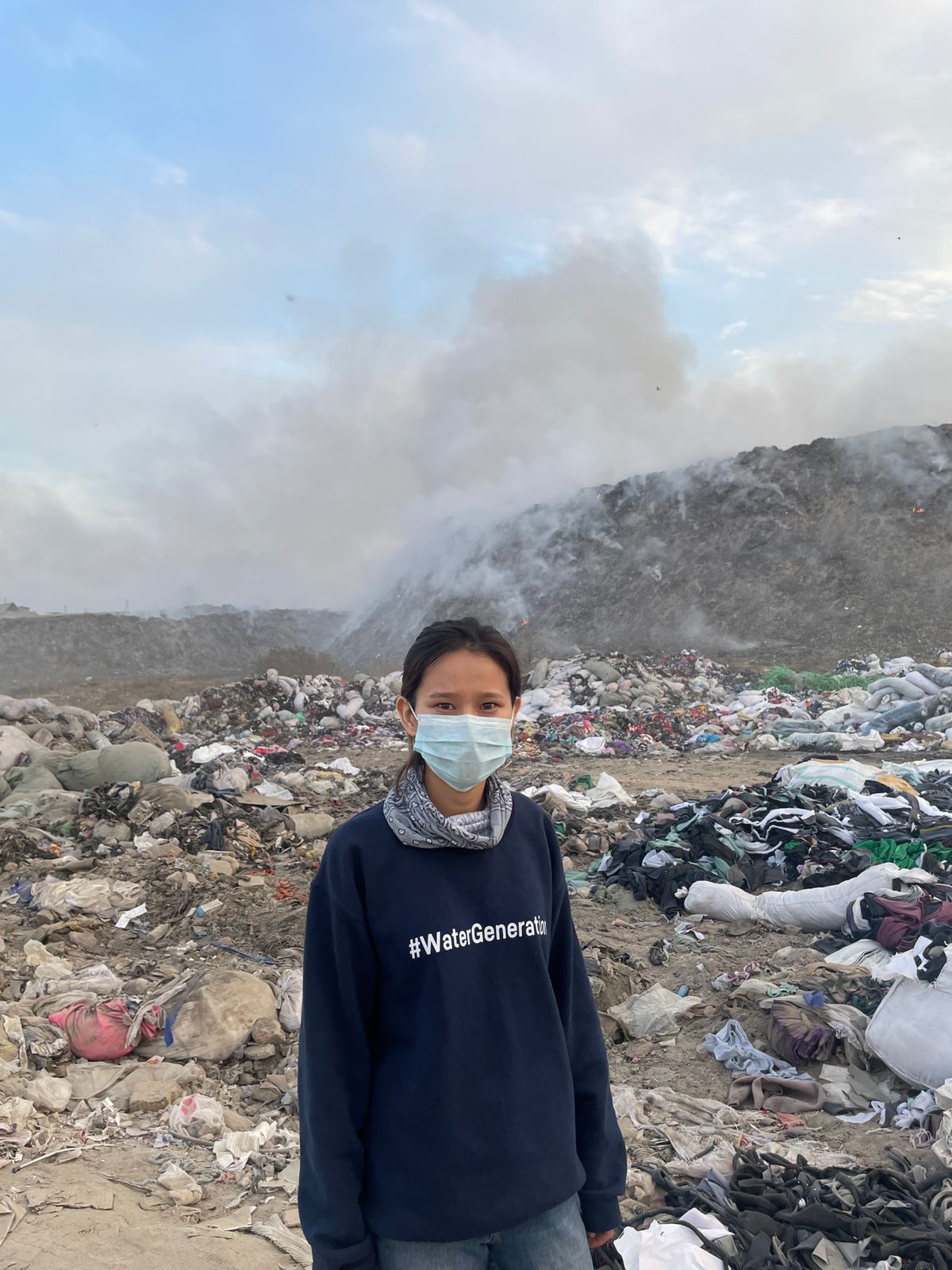 After this visit, I am concerned about whether working in my country will give me the career development opportunities that I might find elsewhere. On top of the challenges related to limited awareness and resources dedicated to environmental issues facing the scientific sector in my country, this is a major concern for me.
However, I have seen progress as well; one of our network members from Uzbekistan, who works for the Committee of the Republic of Uzbekistan on Ecology and Environmental Protection, which is partially government and partially business, recently received a big job promotion, which is inspiring to see and has helped to build my confidence in the potential for career advancement. Recently, I also had the opportunity to participate in the UN Water Conference in New York. Such opportunities and collective network achievements continue to motivate me to promote gender diversity and empower more young women to pursue careers in water management and ecology. We need fresh perspectives, especially from women, to tackle complex environmental challenges effectively.
As someone actively working to get more young people like me – especially other young professional women – interested and active in issues around ecology and water, I am trying to lead by example. I want to engage my peers; bringing young people from across the region together to empower them as activists, but also to raise awareness about the options they have. There are so many opportunities in the water sector, ecology, and environmental sciences – these are outside of the traditional, popular professions like law and economics. By engaging young academics and professionals in discussions and dialogues on dams and water supplies across borders, or by facilitating contests to create ideas to address and improve access to safe drinking water throughout Central Asia, like we have done through the Central Asia Youth for Water network, we can bring new, fresh perspectives and approaches – especially to the water sector – by engaging and motivating people who might have never considered this a viable path. With the youth bulge in Central Asia, I think now it is particularly important to empower young people to see water management, ecology, and environment as amazing opportunities and sectors with so much possibility and potential, so that we can tackle the challenges facing our region – and the world - effectively.
Q: What do you think needs to happen to enable more women to go into STEM careers in your country? What is the best way to try to change cultural norms around women in STEM and in leadership positions?
Meerim: To enable more women to pursue STEM careers in my country, several factors need to be addressed. First, there needs to be an understanding of the issue and the importance of having women in these fields. Breaking down stereotypes and eliminating stigmas associated with women in STEM is crucial. It requires a systemic approach that should involve cooperation across sectors, including government, businesses, and educational institutions - perhaps with a Ministry of Equity that could oversee coordination.
Changing cultural norms around women in STEM and leadership positions also requires a multi-faceted approach. Women themselves should advocate for their rights and speak out about the importance of their representation in these fields - no one else is going to do it for us. It is crucial to have more women in leadership positions who can serve as role models and champions for change. However, it is not solely the responsibility of women to drive this change.
Positive masculinity plays a role in promoting equal opportunities and dismantling gender biases. Last year, we had a mural painted showing that "women can do anything", with a woman holding a baby while reading and doing something else. But it should not be about pushing women on their own to do more and more; we need to involve men. It will take collective efforts and continued conversations to challenge cultural norms and achieve greater gender equality in STEM and leadership positions.
Q: How do you see cultural norms changing? Is the situation getting better or worse?
Meerim: For now, I think we are on the way. Currently, it seems that discussions and dialogue about gender equality in the water sector are predominantly led by women. This is an encouraging sign that women in our society are increasingly recognizing the importance of working on water-related issues.
A few years ago, I hadn't given much thought to women in science and their contributions. However, thanks to ongoing discussions, campaigns, and events, I have been exposed to more information and have come to realize the vast possibilities that exist. And I believe this realization extends beyond just me; it is a collective awakening. I see myself as a drop in the ocean. While progress is being made, it is crucial that we continue to work together and foster global cooperation with all parts of the world. We need to engage in discussions and sustain these conversations not only among women but also involve men. In our women in water diplomacy network, we have male champions who actively address the challenges women face in certain fields. This inclusive approach should be our next significant step.
A recent report by Antonio Guterres suggested that achieving gender equality could take up to 300 years. Although change may be happening slowly, it is important to acknowledge that progress is happening.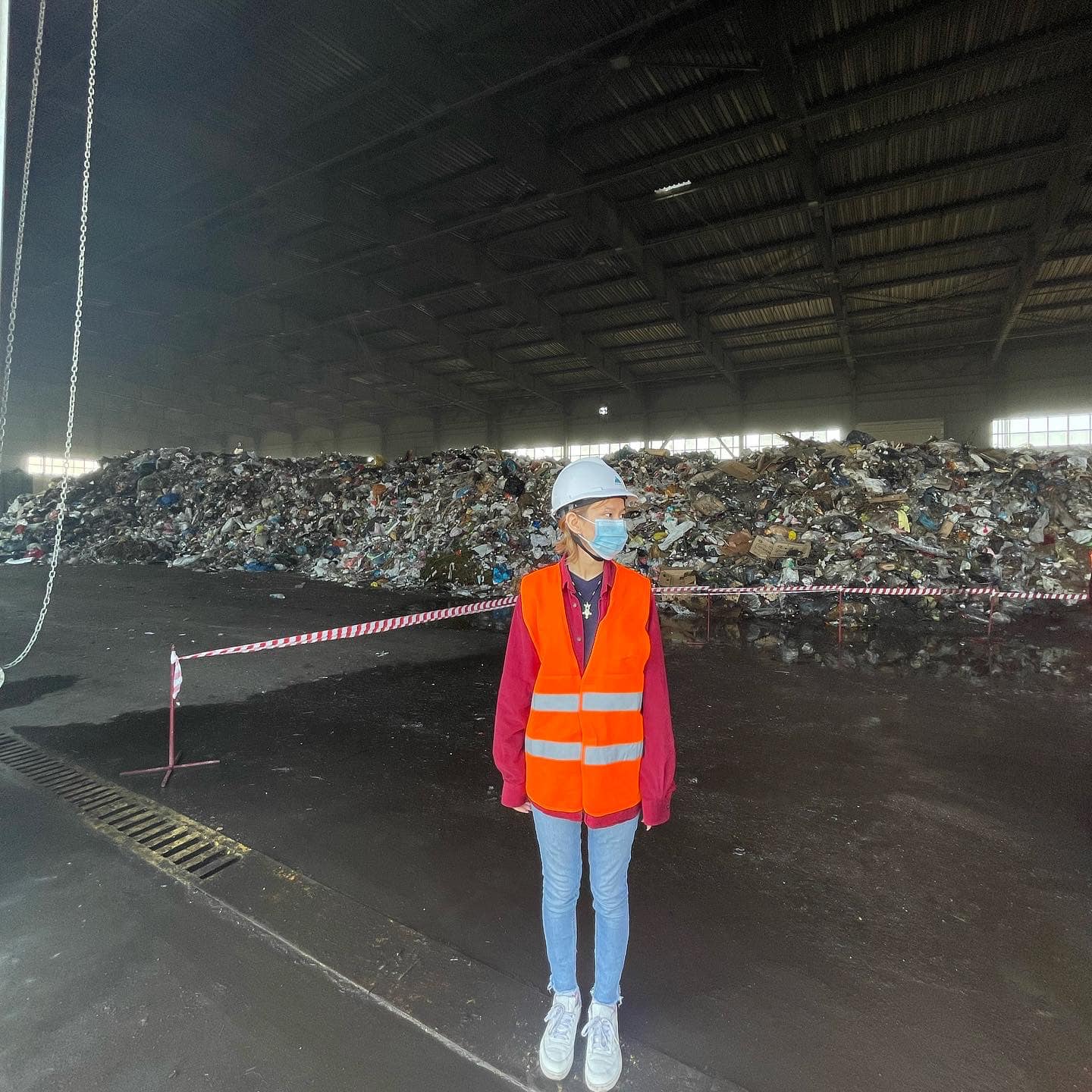 Q: Do you feel that women bring different perspectives to water management than men? Do we need more women in water management and STEM?
Meerim: Yes, women can bring different perspectives to water management compared to men. Due to existing stereotypes and societal expectations, women often have a closer relationship with natural resource management. They possess valuable knowledge and experiences that can contribute to addressing water-related challenges and benefit all stakeholders and parties. Studies show that, as some would call it, "women's natural inclination for peace and cooperation" shows clear benefits of having women working on water management, diplomacy, and negotiations.
And why shouldn't we include as many voices as possible? Increasing gender diversity in these areas not only promotes gender equality but also brings a wider range of perspectives, opinions, and knowledge. It's better for everyone. More representation means more inclusivity, which is crucial for effective water management. Involving young professionals, particularly young women, brings fresh ideas and perspectives that can lead to innovative solutions.
Q: What would you say to young girls who want to enter STEM, especially in the fields of water and ecology? Do you have a piece of advice you'd like to share?
Meerim: My advice to young girls who want to pursue STEM careers, particularly in the fields of water and ecology, would be to just do what you do. If you're interested in something - do it! It's essential that young women are allowed to choose a path that genuinely excites them and aligns with their aspirations. Don't let anyone discourage you or tell you that certain fields are not suitable for girls. Remember that all fields are open to you, and you have the right to pursue your dreams. And that includes all areas, not just STEM!
Even if certain professions or fields are not popular or well-known in your country, keep practicing and staying interested in them. Be persistent and continue to explore and learn. Surround yourself with supportive individuals who believe in your abilities. Seek out mentors and role models who can guide you along the way. And most importantly, never underestimate your potential and the positive impact you can make in these fields. The world needs more passionate and talented individuals, including young girls, in water and ecology. So, keep pushing forward and embrace the opportunities that come your way!