14 July 2023
Forward to dream
Equipping women and girls with the skills needed to answer the needs of emerging and growing fields is critical to closing the skills gap, the pay gap, and the employment gap that are all still prevalent across the world. In Uzbekistan, the digital skills gap between men and women is 24%, and unemployment impacts women (17.2%) more than men (12.1%). Digital skills in particular present new opportunities for women and girls - especially those with disabilities - to find meaningful employment. Currently only approximately 4.4% of women and girls with disabilities are employed in Uzbekistan. As the world continues to change rapidly, and new skills become essential, UNICEF's Skills4Girls programme aims to answer these challenges directly by equipping young women and girls, including those with disabilities, with the knowledge and skills needed to succeed in the evolving labor market.
"I decided to take part in the Skills4Girls programme to learn how to draw on a computer, which is useful for my studies. This is very important to me," says 12-year-old Durdona. "I also made a lot of friends during the training."
Durdona Shamuratova is one of the participants in the Skills4Girls programme, a joint collaboration between UNICEF and IT PARK that aims to increase leadership skills and empower girls in science, technology, engineering, and mathematics (STEM), including those with disabilities. During the programme, participants learn digital literacy and graphic design, alongside taking part in discussions on gender equality and the inclusion of people with disabilities. As they share their personal experiences and engage in these dialogues, participants learn about how gender stereotypes adversely affect girls' choices in life.
Durdona shared that the programme has helped her to master not only the skills of graphic design: "I really like drawing. By this exercise I can express my emotions and feelings, and share them with the world."
While she is eager to study in a mainstream school, so far there are no opportunities. "Now I am in fifth grade. I had to get education at home. Teachers come several times a week. I really want to go to school but I am not accepted because of my disability and there is no infrastructure at school that I need."
©UNICEF Uzbekistan
Especially because she is home-schooled, Durdona's family plays an important role in her education. Her mother, a nurse, plays a particularly important role, as both an educator and a role model. "Most of all in my life I am proud of my mother. She is very patient and always tries to cheer me up. My mom does everything to make my dreams come true. My biggest dream is to become the best doctor, and I have the role model of my doctor."
Her sister also played a big role in supporting Durdona's choice to join the Skills4Girls programme. "My sister always tells me that I am good at drawing, and she encourages and motivates me to keep doing what I love. She also really wants me to play chess professionally. This works well for me too. The only problem on the way to becoming a chess champion is that we can't find a professional coach to take me to the competition. I'm ready to win!"
Durdona encourages other girls to follow her example, and not to stop on the way to their dreams. "To all girls like me, and indeed to all girls, I advise going on like me. I don't stay at home, I always find new hobbies, develop my skills and always try to achieve new goals!"
Like Durdona, Osiyo Khoshimova, 24 years old, is another participant of the Skills4Girls programme. She studies at the Tashkent State University of Uzbek Language and Literature. Osiyo emphasizes the importance of having the support of her family in achieving her goals. "I want to note a huge support and motivation that I receive from my parents. They rejoice so much and praise me for any of my achievements, even the smallest one. It fills me with a sense of pride in my accomplishments."
Through her example, Osiyo shows that supportive inclusion empowers people with disabilities to reach their full potential. "Among the people with visual and with other types of disabilities, there are a lot of educated individuals who are constantly developing. I would very much like the society to notice their abilities and talents more, use it, give them more opportunities to show themselves in the professional sphere. After all, we, too, are capable of this and deserve recognition and respect."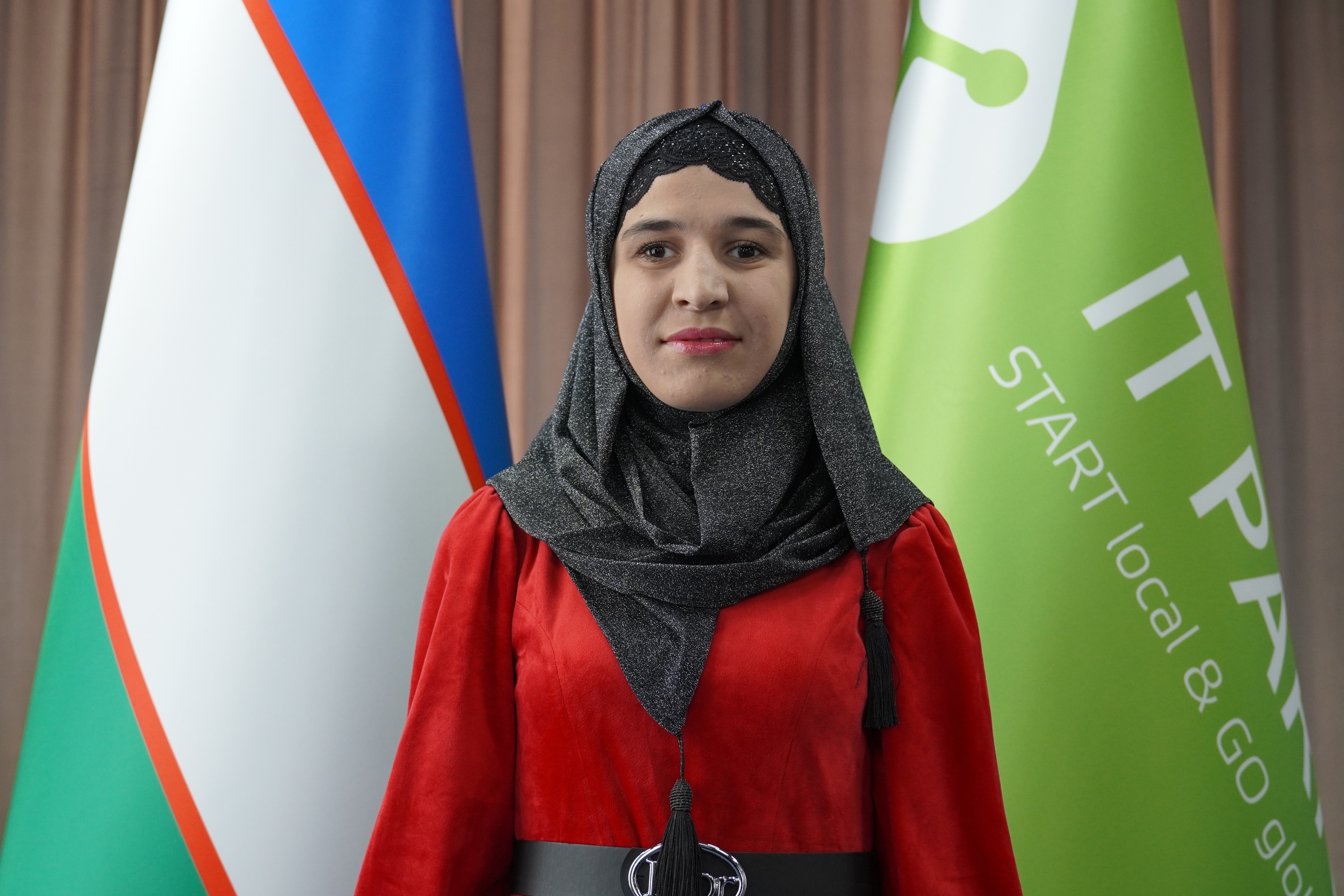 ©UNICEF Uzbekistan
After graduating from the master's program next year, Osiyo plans to enroll in doctoral studies and obtain her PhD. "I want girls never to be afraid of barriers in the way of achieving goals. I know girls, especially girls with disabilities, hesitate on their potential and tend not to believe themselves. However, there are many opportunities, the only thing we should do is to try."
Another boundary breaking girl is Shakhodat Sagdieva, 24 years old, a senior student of the Faculty of Foreign Philology of the National University of Uzbekistan. The fact that Shakhodat cannot see does not stop her from achieving her goals: "If I decide to do something, I will do it!"
Although it was difficult for her, Shakhodat taught herself to read using Braille in English to become a student at the university. "There were many difficulties along the way, but it seems to me that everyone has difficulties. It is impossible to achieve results without making effort and overcoming obstacles."
Along with her studies at the university, Shakhodat successfully completed the Skills4Girls programme. "I always wanted to learn how to work on a computer, but there was no way. My mother always supports me. She says that she believes in me, that everything will work out for me and thanks to a good education I will be able to become independent. Mom's support gives me confidence and I really want to keep going!"
As Durdona, Osiyo, and Shakhodat show with inclusive support and opportunities, girls of all ages and abilities can achieve their dreams. The Skill4Girls programme aims to continue equipping these future leaders, innovators, entrepreneurs, and change-makers with the skills, support networks, and knowledge they will need to thrive and reach their full potential.
All photo credits go to UNICEF Uzbekistan.