"One should be in the water"
When she was nine, Kübra Mutlu remembers wondering why, on the Day of National Sovereignty and Children, girls were told to dress as brides and boys were expected to wear military uniforms. "I started to think, 'Why should I become a bride?' I didn't want to." She still has a picture of herself wearing a military uniform on that day.
Fast forward to the present, and you can still find Kübra challenging gender stereotypes and norms. In her home country of Turkey, women make only 24 percent of the engineering workforce. Yet Kübra is a reporting engineer for the Çanakkale 1915 Bridge project, whichwill be the longest midspan suspension bridge in the world. She is also a mentor with Engineer Girls of Turkey (EGT), helping to expand opportunities for girls and young women in engineering
Born to a supportive family of eight was "real luck," says Kübra. In her hometown of Muş in the eastern part of Turkey, it is not so common for women to attend university, but her eldest sister paved the way. The first woman in her family to earn a university degree, she now works in academia. Kübra's two other sisters followed suit and earned degrees in English and mechanical engineering. Seeing her sisters develop their own careers motivated Kübra to pursue her own interest in engineering, leading to a degree at Yildiz Technical University.
Kübra says she was always a curious and eager learner, and as a university student she wanted to absorb as much knowledge as possible and seize every opportunity she could. As she puts it, "One can't learn swimming from a book; one should be in the water." This is how she learned about EGT, a programme run in cooperation with the Limak Foundation, the Ministry of Family, Labour and Social Services, the Ministry of National Education and UNDP in Turkey, which supports girls' and women's career development in engineering. With its support, Kübra worked as an intern with the Istanbul Airport and at Werner Sobek company in Germany, before getting her current job. . Kübra is paying it forward and is now herself a volunteer with EGT, mentoring young women who are in the same position as she was years ago. She believes that the example set by her sisters and her exposure to women role models in engineering helped her to get to where she is today.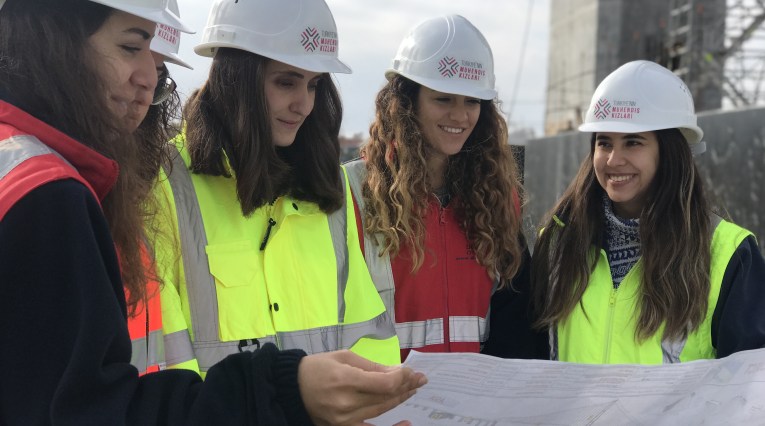 Kübra admits it takes a lot of energy to prove herself as a professional engineer because she is a woman. "It is not always possible to make people see women engineers as good as their men counterparts." She recounted the times that colleagues refused to engage in work-related discussions with her, expressing doubt in her abilities because she is a woman.
Managers will often assign the administrative work to women, while more technical engineering tasks are assigned to men. Society still expects women to take care of household duties, she says, and work in careers with "fewer risks" such as teaching. When Kübra finds herself in these challenging situations, she tries to focus on her efforts and the good work she produces at her job. She tries to remember that these encounters are not about her performance as a professional but rather about gender bias and social norms. Kübra also seeks advice from her mentors, which always helps her to remember she is not alone.
Kübra believes we can and must break down gender stereotypes by engaging girls as young as possible and normalizing their participation in STEM education and careers. Today, women make up only 34 percent of the STEM (science, technology, engineering and mathematics) workforce in Turkey. At this rate, women will be left behind in the world of work as digitalization and automation transform the world of work. The Covid-19 pandemic will only intensify the demands for higher STEM skills – so women and girls must seize the opportunities to enter engineering and other STEM fields.
When asked about her plans, Kübra says that she has been admitted to a master's programme in business at Koç University and plans to begin this year. This programme will help Kübra further develop leadership skills so that she can start her own company one day. "But most importantly, I really want to learn about leading; how I can be my best as a woman and engineer; and how I can be a good person to other women and encourage them."
What advice would she have for girls considering a career in engineering? "I always say you should wonder about everything. You should ask to find answers. You should ask to learn. You should find mentors."