"Catch them early"
Dr. Jasminka Hasić is a professor and a researcher in the computer science faculty at the Sarajevo School of Science and Technology in Bosnia and Herzegovina. In addition to teaching, Dr. Hasić oversees data analysis using artificial intelligence data science techniques. She is part of an interdisciplinary research team investigating how bacteria in our guts influence behaviour, such as autism spectrum disorders.
Dr Hasić was always drawn to mathematics and science and never felt excluded because she was a girl. As a child, mathematics came naturally to her, and the positive reinforcement from her parents – her mother was an engineer and her father an economist – and teachers fuelled her passion for the subject. At primary school, her teachers challenged and encouraged her to enter competitions in mathematics and science.
At the start of the War in Bosnia and Herzegovina, her family left the country for New Hampshire in the United States, where she began a new life as a secondary school student. She feels lucky to have studied in the US where she remembers the mathematics and science curricula being really "rich." One of her teachers even won the prestigious Fields medal and was a great inspiration for Dr. Hasić. With the continued support of her parents and teachers, her confidence and self-esteem soared, and she excelled in all her classes. Dr. Hasić obtained a bachelor's degree in computer science from the University of New Hampshire. She went on to a master's degree in computer science from Brown University in Rhode Island in the US and a PhD in Engineering from University of Warwick in the United Kingdom.
The workplace was a different story, however. Dr. Hasić encountered discrimination at her first job out of university. She worked as a software engineer in New Hampshire during the exciting early days of the Internet. She remembers being very grateful and pleased with her salary and could not believe she even received a signing bonus! As a refugee from Bosnia, the thought of negotiating her contract did not even cross her mind. When she learned that one of her colleagues – a man – who had a reputation for underperforming was earning a higher salary than she was, she did not bring it up with her manager, despite her shock and confusion. She decided to just be proud and appreciate the fact that she was part of the development of the unchartered frontier of the Internet. Unfortunately, her experience with gender-based discrimination in the STEM (science, technology, engineering, and mathematics) industry did not end here.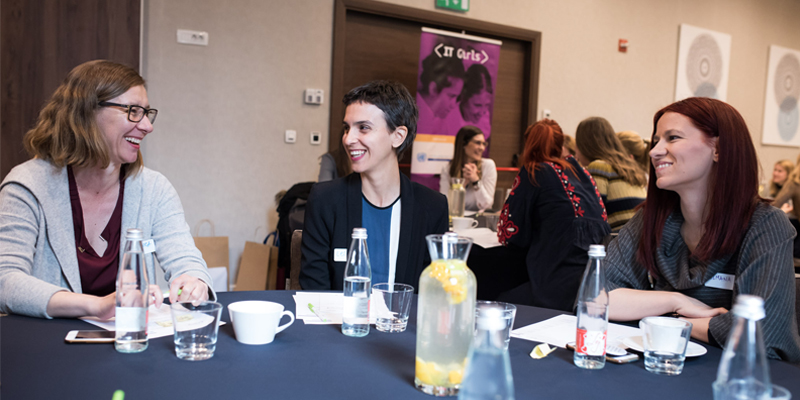 Dr. Hasić eventually returned to Bosnia and Herzegovina where, after years of working in industry, she entered the world of academia. She started noticing that when her computer science students graduated and applied for jobs, the women had a harder time getting the jobs despite their qualifications. She also noticed that women, who were her higher performing students, were not getting promoted at the same rate as men. Motivated by her own observations and experience with discrimination and seeing it now through the eyes of her students, Dr. Hasić made a commitment to do what she could to support and advise women in her classes, including serving as a role model for them.
Working for a private university in Bosnia and Herzegovina, she did not enjoy the social protection benefits of public universities, especially when it comes to parental leave. She took six months of leave for each child. Returning to work was a bumpy road in her career path, but her strategy was "to always stay true to [herself]" because her job and her family were equally important to her.
Knowing the hurdles women in Bosnia and Herzegovina face in progressing through STEM education and careers, Dr. Hasić spends a lot of her time outside of work advocating for women in STEM. She volunteers with IT Girls and shows her own students that careers in STEM for women are possible. She is also starting to advocate for the government to collect and use gender disaggregated data (data collected and analyzed by gender, allowing for disparities between the genders to be seen), starting with the Cantonal Ministry of Education and Science. She noticed that most of their local research grants were awarded to teams whose principal investigators were men, and even more importantly the evaluation committees were almost always made up of all men. Dr. Hasić performed an analysis and shared the information on social media as well as through her contacts.
When asked what needs to be done for an equal future in STEM, Dr. Hasić says that she is an optimist. "We all have biases. The work that needs to be done is tremendous," she says. "It will take time, but we should train girls and women to overcome the challenges. We should start with the young people. Catch them early."